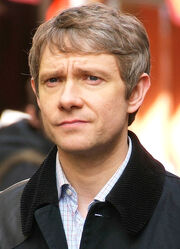 Martin John Christopher Freeman (born 8 September 1971) is an English actor who portrayed Arthur Dent in the 2005 Hitchhiker's film . He is best known for his roles as Tim Canterbury in The Office, Dr. Watson in Sherlock, and Bilbo Baggins in Peter Jackson's three-part adaptation of The Hobbit.
Filmography
Edit
Year
Film
Role
Notes
1998
I Just Want to Kiss You
Frank
Short film
2000
The Low Down
Solomon
2001
Round About Five
The Man
Fancy Dress
Pirate
2002
Ali G Indahouse
Ricky C
2003
Love Actually
John
2004
Blake's Junction 7
Vila
Short film
Call Register
Kevin
Shaun of the Dead
Declan
Cameo
2005
The Hitchhiker's Guide to the Galaxy
Arthur Dent
2006
Confetti
Matt
Breaking and Entering
Sandy
2007
Dedication
Jeremy
The Good Night
Gary Shaller
Hot Fuzz
Met. Sergeant
Lonely Hearts
The pig
Short film
The All Together
Chris Ashworth
Rubbish
Kevin
Short film
Nightwatching
Rembrandt
2008
Rembrandt's J'Accuse
Rembrandt
Documentary (related to the previous year's Nightwatching)
2009
Nativity!
Paul Maddens
HIV: The Musical
James McKenzie
Swinging with the Finkels
Alvin Finkel
2010
Wild Target
Dixon
2011
What's Your Number?
Simon
2012
The Pirates! Band of Misfits
The Pirate with a Scarf/Number 2
Voice
The Hobbit: An Unexpected Journey
Bilbo Baggins
2013
The World's End
Oliver
The Hobbit: The Desolation of Smaug
Bilbo Baggins
Svengali
Don
Saving Santa
2014
The Hobbit: The Battle Of The Five Armies
Bilbo Baggins
Television
Edit
Year
Series
Role
Notes
1997
The Bill
Craig Parnell
Episode 13.3: "Mantrap"
This Life
Stuart
Episode 2.1: "Last Tango in Southwark"
1998
Casualty
Ricky Beck
Episode 13.8: "She Loved the Rain"
Picking up the Pieces
Brendan
Episode 1.7
2000
Bruiser
Various characters
Appeared in all six episodes
Lock, Stock...
Jaap
Appeared in two episodes
Black Books
Doctor
Episode 1.1: "Cooking the Books"
2001
Men Only
Jamie
TV film
World of Pub
Various characters
Appeared in five episodes
2001–2003
The Office
Tim Canterbury
Appeared in all 14 episodes
2002
Helen West
Unknown
Episode 1.2: "Shadow Play"
Linda Green
Matt
Episode 2.8: "Easy Come, Easy Go"
2003
The Debt
Terry Ross
TV film
Margery and Gladys
D.S. Stringer
TV film
Charles II: The Power and The Passion
Lord Shaftesbury
TV mini-series
2003–2004
Hardware
Mike
2004
Pride
Fleck
TV film
2005
The Robinsons
Ed Robinson
Appeared in all six episodes
2007
Comedy Showcase
Greg Wilson
Special 1.1: Other People
The Old Curiosity Shop
Mr. Codlin
TV film
2008
When Were We Funniest?
Himself
Appeared in four episodes
2009
Boy Meets Girl
Danny Reed
TV mini-series
Micro Men
Chris Curry
TV film
2010–present
Sherlock
Dr. John Watson
All 10 episodes, including the unaired pilot
2010
The Girl is Mime
Clive Buckle; lead actor
Short film, part of the 48 Hour Film Project in London
Ad blocker interference detected!
Wikia is a free-to-use site that makes money from advertising. We have a modified experience for viewers using ad blockers

Wikia is not accessible if you've made further modifications. Remove the custom ad blocker rule(s) and the page will load as expected.