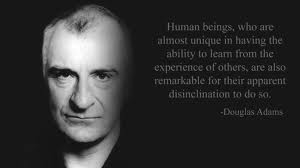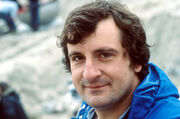 Douglas Noel Adams (11 March 1952 - 11 May 2001) was an English author, comic radio dramatist, and musician. He is best known as author of the Hitchhiker's Guide to the Galaxy series. He has written for radio, television, and theatre, and has worked at various times as a hospital porter, barn builder, chicken-shed cleaner, bodyguard, radio producer and script editor of the notorious "Doctor Who" series. Adams was six feet tall by age 12 and topped out at six foot five, about the same height as John Cleese, with whom he worked onscreen in "Monty Python".
Toward the end of his life, he was a sought-after lecturer on topics including technology and the environment. Since his death at the age of 49, he is still widely revered in science fiction and fantasy fandom circles.
Adams died of a heart attack at the age of 49 on Friday 11 May 2001, while working out at a private gym in Montecito, California.
On May 25th, two weeks after his untimely death, Towel Day was created in his honour: all you need to do is carry a towel and love Douglas Adams!
Ad blocker interference detected!
Wikia is a free-to-use site that makes money from advertising. We have a modified experience for viewers using ad blockers

Wikia is not accessible if you've made further modifications. Remove the custom ad blocker rule(s) and the page will load as expected.