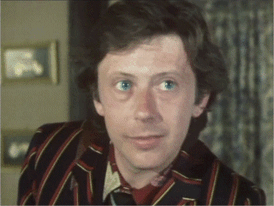 David Dixon (born 28 October 1947) is an English actor and screenwriter who portrayed Ford Prefect in the 1981 BBC TV series The Hitchhiker's Guide to the Galaxy.  He would later rejoin the Hitchhiker's Guide by lending his voice to the "Ecological Man" and the "Zirzla Leader" in Fit the Twentieth of the Radio Series, while Geoffrey McGivern, who had originally played the character on radio, returned to the role of Ford.
He also received critical acclaim for his portrayal of Ariel in the 1980 BBC version of "The Tempest".
Filmography
Edit
A Family at War (1970) (TV series) – Robert Ashton
Escort Girls (1974) – Hugh Lloyd
Jumping Bean Bag (1976) (BBC TV Play For Today) – Ozymandias Freemantle
The Legend of Robin Hood (1975) (miniseries) – Prince John
A Horseman Riding By (1978) (miniseries) – Keith Horsey
Lillie (1978) (miniseries) – Prince Leopold
A Family Affair (1979) (miniseries) – Clifford
The Tempest (1980) (TV) – Ariel
The Hitchhiker's Guide to the Galaxy (1981) (miniseries) – Ford Prefect
The Missionary (1982) – Young Man
Cold Warrior (1984) (miniseries)
Tutti Frutti (1987) (TV) – Stuart Gordon Inverarrity
Circles of Deceit: Dark Secret (1995) (TV) – DI Ransome
A Touch of Frost: Fun Times for Swingers (1996) (TV) – Barry Curzon
Original Sin (1996) (TV) – Dr Wardle
Ad blocker interference detected!
Wikia is a free-to-use site that makes money from advertising. We have a modified experience for viewers using ad blockers

Wikia is not accessible if you've made further modifications. Remove the custom ad blocker rule(s) and the page will load as expected.