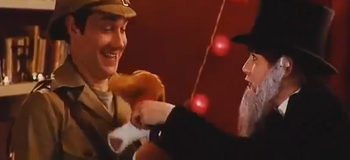 Charles Darwin was an 19th century English naturalist and geologist who Trillian dressed up as at a fancy dress party. Most people did not get who she was meant to be, instead calling her Santa, even though she thought the beagle was a dead giveaway. Arthur Dent was the only one to guess her correct identity, thus giving them something immediately in common.
Appearances
Edit
Ad blocker interference detected!
Wikia is a free-to-use site that makes money from advertising. We have a modified experience for viewers using ad blockers

Wikia is not accessible if you've made further modifications. Remove the custom ad blocker rule(s) and the page will load as expected.