Welcome to a page where the life and works of Mr Douglas Adams rules the world!Edit
First of all, I would like to say that if you are looking for a serious 'hard core biography' about Mr Adams (although there are many facts) you've come to the wrong place and should turn away now!
Instead, this is a page where any species in the known universe can post light hearted, humorous comments and links about any H2G2 / Douglas Adams event or page they choose (provided its kept clean of course).
The concept is simple - MAKE THE WORLD A SMALLER, HAPPIER PLACE BY USING THE WORKS OF MR DOUGLAS ADAMS and the HITCHHIKER'S GUIDE.
The following web page does just that: http://www.facebook.com/Douglas42towels
International Towel Day is a Facebook page that contributes on a daily basis to celebrate the life of Douglas Adams and the global celebrations of Towel Day which continue to show the love for the complete madness of our mutual friend, Mr Adams after his death in 2001.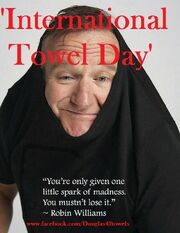 So, if you consider yourself to be one of the 'Hoopiest Froods' on the planet, please Remember Your Towel and Don't Panic!
Ad blocker interference detected!
Wikia is a free-to-use site that makes money from advertising. We have a modified experience for viewers using ad blockers

Wikia is not accessible if you've made further modifications. Remove the custom ad blocker rule(s) and the page will load as expected.